GenOvations
When you want to know who is touching your genes.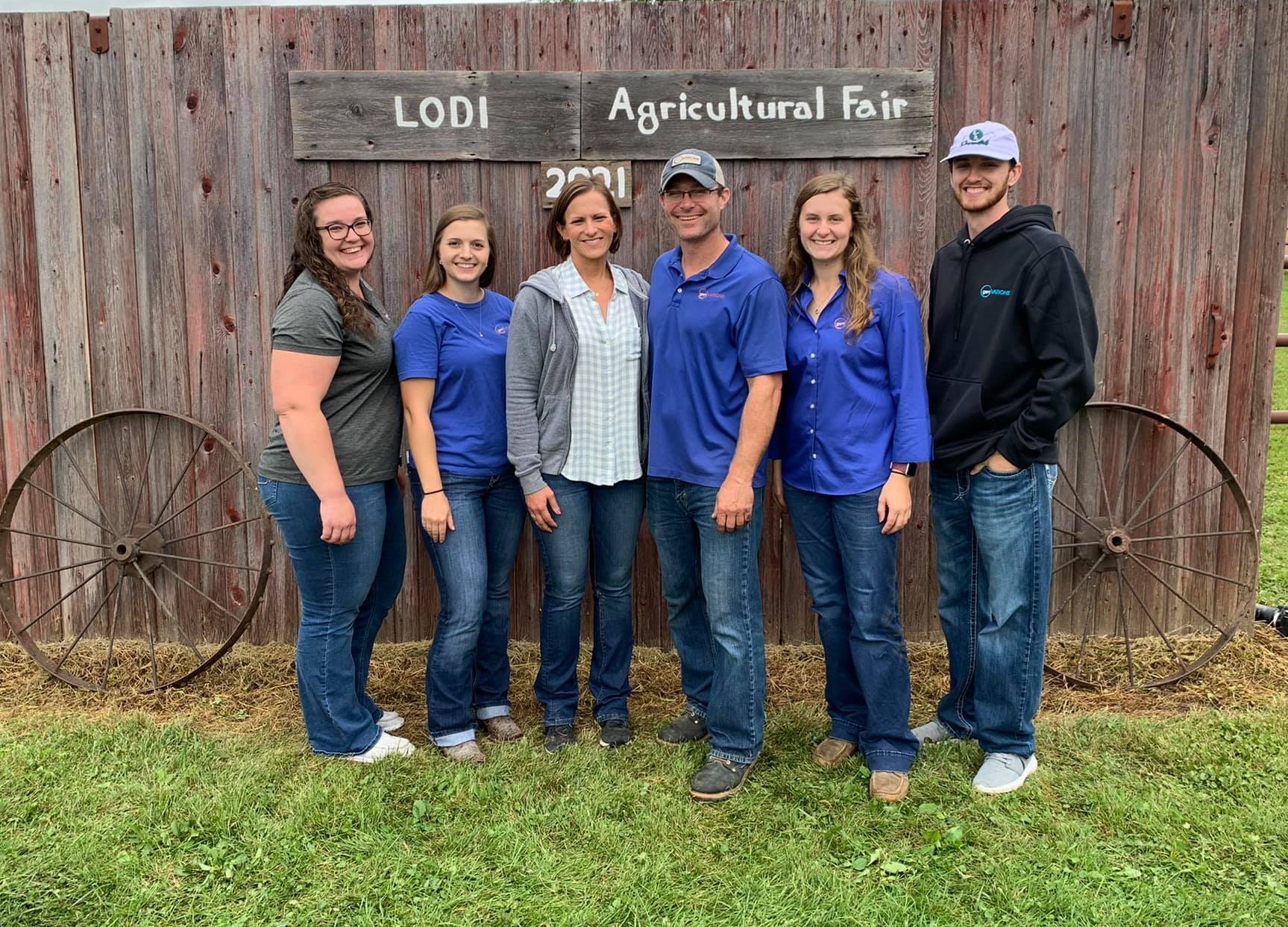 Dr. Nate Dorshorst
Dr. Nate Dorshorst was raised on Dorsland Farms, a 50 cow registered Holstein dairy farm in Junction City, Wisconsin.  He grew up working on the family farm where he enjoyed breeding and showing registered Holsteins and riding on calls with his father, also a large animal veterinarian.  He attended the University of Wisconsin – Madison receiving his Bachelors of Science in Dairy Science (2002) and his Doctor of Veterinary Medicine (2006).
Upon graduation, he was hired by a 20-doctor group practice in Lodi, WI where he founded the advanced reproductive division of the business and gradually transitioned from general large animal practice to becoming specialized in embryo transfer and IVF technology.  In 2010 he became a partner in the practice and in 2014 the advanced reproduction division was split out to become a separate business entity, GenOvations Inc.  Dr. Dorshorst has been performing Ovum Pick Up and In Vitro Fertilization services since 2009 and now operates with 3 donor farms in south central WI.  In the fall of 2017 GenOvations opened its own in house commercial IVF laboratory becoming only the 6th privately owned IVF lab in the United States.
He is active in the Wisconsin Veterinary Medical Association, where he sits on the Legislative Committee.   He is involved in several committees of the American Embryo Transfer Association, including the Education Committee and the Cooperator Committee, which is actively engaged in the development of emerging embryo export markets for US dairy and beef farmers.  His other professional memberships include the International Embryo Transfer Society, American Veterinary Medical Association and the American Association of Bovine Practitioners.
He lives in Lodi, WI with his wife Melissa and their four boys, Braedon (14) Owen (12) Everett (10) Landon (8) and the family dog, an African Boerboel named Otis.  In his spare time, he enjoys spending time with his family, gardening, hiking, hunting and showing registered Holsteins with his boys.
Olivia Fischer
Olivia grew up in Chilton, Wisconsin, and although she did not grow up on a farm she has always been passionate about and interested in the agricultural industry. From early on she was a member in a local 4-H club where she showed dairy calves for a few years and her horses for many years. In high school Olivia was heavily involved in FFA, which played a big part in helping her choose her future college and major. Olivia attended the University of Wisconsin-River Falls where she majored in Dairy Science and Animal Science with an Equine Emphasis. Olivia participated in Dairy Club, was on the horse judging team, and was the sweetheart for the Alpha Gamma Rho fraternity. While at college she was also fortunate enough to be able to do an agriculture based study abroad program in the Netherlands, Germany, and Belgium. Olivia's interest in advanced reproduction started after taking Dr. Casie Bass's Equine Reproductive Techniques course. She then stayed in River Falls for a summer to be a research assistant on a USDA funded project studying the equine maternal recognition of pregnancy process. Olivia graduated from UW-River Falls in 2020 and headed to Kansas to work at a vet clinic as a vet tech and embryologist. When she discovered a new opportunity at GenOvations she knew she wanted to be a part of the team!
Olivia is very excited to be able to expand her knowledge and skills as an embryologist, and to be able to spend time both working with cattle and clients, and being in the lab. When Olivia has free time she enjoys camping, hiking, canoeing, fishing, riding horses, and spending time with her friends and family.
Tiffany Brandl
Tiffany grew up 25 miles south of Green Bay, WI, on her family's small farm with Hereford cattle and sheep. She also worked on several dairies and showed Holstein cattle at the local, state, and national levels. She attended Manitowoc Lutheran High School and graduated in 2013. She was a member of successful 4-H dairy and livestock judging teams, including the second place team at World Dairy Expo in 2014. She then attended the University of Wisconsin-Madison, where she was involved in Badger Dairy Club, Saddle and Sirloin, and the Association of Women in Agriculture. She also worked with the 4-H Youth Livestock Extension Program, UW Dairy Cattle Center, ABS Global, and SCR Dairy while attending UW. Tiffany earned her bachelor's degree in dairy science in May 2017, and she began working at GenOvations right after graduation. When she is not around cows, Tiffany enjoys baking, fishing, hunting, and spending time with her husband and family.
Gretchen Campbell
Gretchen comes to us from Northwest Indiana where she grew up on her family's farm. From an early age she was heavily involved in showing swine, sheep, and beef cattle at the county and state level. Throughout her 4-H experience her passion for agriculture grew. Upon graduating from high school in 2016 she then attended Purdue University. At Purdue, Gretchen studied Animal Sciences and participated in the Purdue Chapter of Block and Bridle, Purdue Collegiate Cattlemen's, competed at the 2019 Regional Animal Science Academic Quadrathlon and gained experience working with Purdue Extension, The Northern International Livestock Exposition, Farrer Stock Farms, and ABS Global. Gretchen's interest in advanced reproduction was established as she studied under Dr. Kara Stewart and gained the opportunity to assist in laparoscopic AI, post-cervical AI, and reproductive ultrasonography. Gretchen earned her Bachelors from Purdue in 2019 and then moved to Wisconsin to begin working with GenOvations.  Gretchen is so excited to be working with the team at GenOvations and expanding her knowledge of embryology and connecting with and contributing to the success of our clients. She is thrilled for the opportunity to work with cattle every day and cheer on the Boilers when they are in town. When Gretchen is not working she enjoys raising club lambs with her husband Trevar, traveling for livestock events/shows, hiking, taking pictures, and spending time with her family.
Devon Boyer 
Devon grew up in Blandinsville, Illinois on a small farm and cattle operation. He grew up showing Simmental cattle through 4-H and FFA. After high school, he attended Black Hawk East in Kewanee, Illinois where he was a member of the livestock judging team. He graduated from Black Hawk in 2018 and transferred to Western Illinois University in Macomb, Illinois. During that time, he also competed on the judging team while getting his Bachelor's degree in Agriculture Science. Devon's interest in reproductive physiology lead him to an internship at Trans Ova Genetics, as well as employment with ST Genetics. When he learned of the opportunity at GenOvations, Devon knew it was the place that he wanted to be. Devon is currently a co-owner of BYR Simmentals with his dad in Illinois. He started this herd of cattle when he was a senior in high school and has continued to grow it every year. While Devon likes to spend his free time at cattle shows or sales, he also enjoys watching and playing sports.
Unlock your potential. Contact us today.